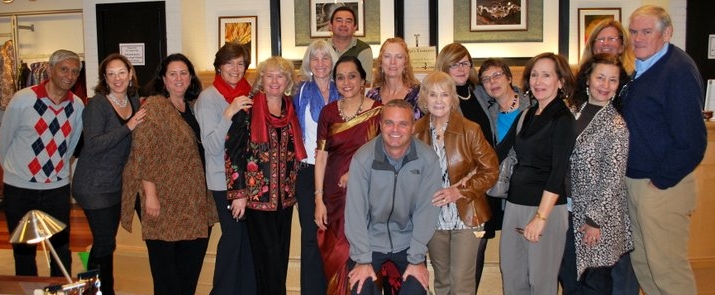 As evening settled over the Corte Madera Town Center, the Ninth Annual "Sudha Sale" got off to a fine start on Friday, November 9 with crowds of expectant shoppers entering a world of Sudha Pennathur's imagination.   The old Ann Taylor store had been re-imagined as a colorful, jewel-toned gallery selling artisanal goods from India and the Far East, all designed by Sudha and crafted by her team of hundreds of artisans.   Playful kantha scarves held their own; finely-woven pashminas and gem-encrusted necklaces contrasted with costume pieces; colorful skirts and jackets anchored one side of the room while whimsical bags, holiday ornaments, and decorative items highlighted the other.   A buffet of pizza, ceviche, brownies and drinks kept energy high as shoppers took in the scene.
The highlight of all, of course,  was the fact that all profits from the sale of these goods would benefit Bread and Roses and Angel Island Conservancy, two local non-profits supported wholeheartedly by Sudha for many years.   With the room full and buzzing, Doug McConnell  introduced Sudha in a short talk that underscored her great commitment 
to her community over the years and the grace with which she manages it all.    Sudha followed, to speak of her long appreciation for Bread and Roses and the remarkable work it does all year and and for the historic and natural significance of Angel Island  She also thanked the dedicated volunteers and staff from both organizations who had helped set up the sale and are critical, day in and day out, to the continued success of these groups.
   Photos courtesy Jon D'Alessio & Jim Prigoff