Shoppers Enjoy 50-70% off Hand-Crafted Holiday Gift Items While Giving Back
 Equal Rights Advocates, Whistlestop and North Bay Children's Center to Benefit from Proceeds of Sale
October 11, 2017 (Tiburon, CA) – Sudha Pennathur announces the Fourteenth Annual Sudha's Treasures Benefit Sale, featuring exotic items from the collection of acclaimed designer Sudha Pennathur. The 2017 Sudha's Treasures Sale will be held at the Corte Madera Town Center October 13-28, with 100% of the net proceeds benefitting local Bay Area nonprofits Equal Rights Advocates (ERA), Whistlestop and North Bay Children's Center (NBCC) and other charities in India.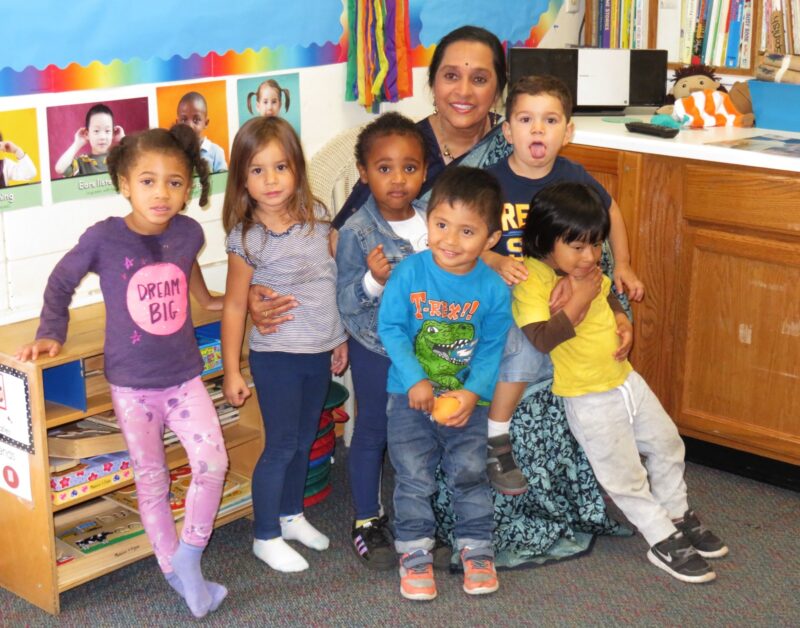 In India, Sudha Pennathur sponsors and mentors a select group of master craftspeople to create distinctive jewelry, scarves, decorative objects and other gift items.  Her designs are featured and sold in such prestigious stores as Bergdorf Goodman, Neiman Marcus & Saks Fifth Avenue as well as Sundance catalog, The Smithsonian, National Geographic Society, The Smithsonian and the Art Institute of Chicago.
Designer Sudha Pennathur with children from NBCC
The first Sudha Sale was held in 2003, when Sudha had the inspiration to open her goods to retail customers in a pop-up sale format, donating 100% of the proceeds to a local nonprofit. Each year, Bay Area shoppers enjoy incredible discounts on beautiful scarves, jewelry and gift items while giving back to their community. Over the course of the past 13 years, the Sudha Sales has donated over $250,000 to local nonprofits.
Every year the Sudha Sale supports craftspeople in India to continue their beautiful, labor-intensive artistic traditions while simultaneously giving generously to her local American community. According to Sudha, "Giving back is a fundamental value that was taught and practiced in my family. When we have enough to live and enjoy the fruits of our labor, there is nothing more rewarding than to share the wealth with others less fortunate and with those that can make a real difference in others' lives. I love giving back to the community where I live and to the artisans who, through their products, made my career a success!"
Details About the 2017 Sudha Sale
2017 Sudha Sale Hours:
Friday, October 13, 4 – 8pm: Special opening reception
October 14 – 28, 10am – 6pm (Sundays 10am – 5pm)
Sudha Sale Location:
The 2017 Sudha Sale takes place at the Corte Madera Town Center, #325, inside the mall next to Crate & Barrel
About Sudha Pennathur
Since 1985, Sudha Pennathur has been designing and manufacturing high-end branded gifts, jewelry, scarves, and home textiles that convey a sense of story and luxury. These elegant, East-meets-West designs are interpreted through a contemporary, ethnocentric lens. Sudha's collections appeal to women of all ages, who are fashion conscious but also love classic style. For information on Sudha Pennathur's work and designs, visit http://pennathur.com.
About Whistlestop
Founded in 1954 as Marin Senior Coordinating Council, Whistlestop promotes the independence, well-being and quality of life for older adults and people living with disabilities in Marin County. Whistlestop's Active Aging Center provides delicious meals, educational classes, multicultural gatherings and helpful information and referral services. Whistlestop also provides special needs transportation services through Marin Access, a partnership of Whistlestop, Marin Transit and Golden Gate Transit, and operates Marin's Meals on Wheels program, serving meals to over 250 homebound older adults each week in the Marin community. For more information about Whistlestop and its classes and services, visit www.whistlestop.org.
About NBCC
North Bay Children's Center (NBCC) plays an important role in helping children develop to their fullest potential. For nearly 30 years, NBCC has been widely recognized as a leader in early care and education and provides North Bay families – the majority low-income – with high quality early child development programs that focus on academic readiness, foster good health, as well as comprehensive family support programs that promote self-sufficiency. NBCC serves 600 children and their families daily throughout thirteen center sites in Marin and Sonoma counties. To learn more visit www.nbcc.net.
About ERA
Equal Rights Advocates is a national civil rights organization dedicated to protecting and expanding economic and educational access and opportunities for women and girls. Learn more at www.EqualRights.org.